Noor Afshan Mirza, a 24-year-old HR professional in Delhi, goes home every year to celebrate Diwali with her Hindu friends and neighbours in Lucknow. This city gives you best of both worlds, she tells LokMarg
I am currently working in Delhi, but whenever I think Diwali, I think home, which is Lucknow. Call it the influence of a city that prides itself on the confluence of cultures, the Ganga-Jamuni tehzeeb, or just the way my parents, especially my mom, brought us up, Diwali is very close to our hearts.
My younger brother and I have always been big on celebrating Diwali and go all out in ensuring we have maximum fun. My mother runs a boutique and on all the festivals, be they of any religion, I get brilliantly stitched new suits. So Diwali also means new suits for me.
My parents have taught us that the true worth of a festival is in it being celebrated with people. So right from my childhood, every Diwali my mom and I as part of the NGO we have been running for long, take lots of chocolates, mithais, candles, a few small crackers etc. to slum areas in Lucknow, so that no house remains unlit on the special night. The poor can't afford fancy lights, so we make sure we can gift everyone a little brightness. This year it has been a little difficult to carry out the exercise because of the pandemic.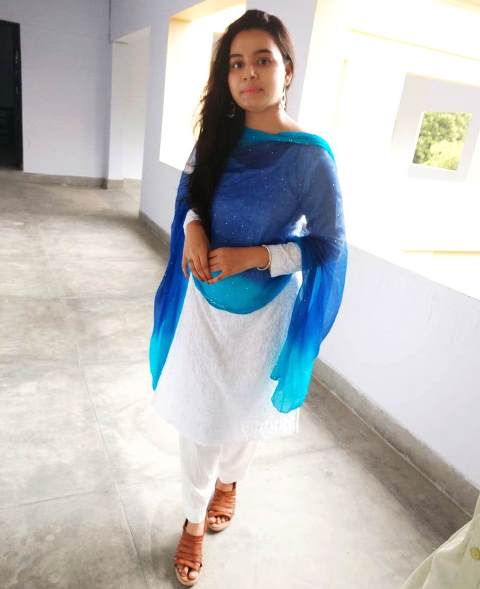 As I moved from my school life to my professional life, I realised I could make more people feel included and involved as an HR professional. You know how HR professionals are responsible for organising festivities in offices. Diwali has got to be my favourite festival to organise, and among these, Rangoli competitions my favourite. But this year our office has very few people coming in, so few festivities in office this year.
Every year I take chutti on Diwali and run off to Lucknow. Last year I had the best Diwali celebrations ever at my mother's friend, Sunita Aunty's home and I am super-excited to be a part of her Diwali celebrations again in Lucknow this year.
Of course the festivities will be organised differently at her home this year, keeping social distancing and other measures in mind, but I am sure it will still be as much fun. The tenants at our home are all Hindus and together we cook and make rangolis, deck up the terrace with diyas and gorge on mithais. I am so glad I get the best of both worlds, Islam and Hinduism. I take beauty and grace from wherever it is available.
Among all this I forgot to add that on chhoti Diwali my mom and I go to the Shaheed Smarak at Lucknow and light candles as a mark of respect to those who went before us.
It wouldn't be out of place to say that Diwali is also the day I celebrate my mom, her spirit of resilience and the capacity to see beauty everywhere. Without her liberal upbringing we would have never known just how beautiful the world is or can be.
She is the light of my life and someone who constantly helps me walk on the path of enlightenment. In our family we love to laugh a lot, and a smile can light up everything around it. Even if not a single cracker is allowed, nobody can take away a cracker of a smile or an explosion of laughter. Happy Diwali!