LOK ISSUES
LOK ISSUES
'Covid-19 Gave Me Extra Time & A Home Business'
Pooja Makin Kapoor, 44, from Dehradun, Uttarakhand, learnt making soaps at home from a YouTube clip. In no time, it has turned into a successful home-based business and she is loving it
Among the changes that a raging Covid19 pandemic brought into our lives are: 1) we all found some little extra time on our hands; and 2) there has been an excess of soaps and sanitizers on our hands. I teach English and Maths on voluntary basis at NGOs and in the lockdown I got time to indulge myself in other pursuits. So one evening, when I chanced upon a You Tube video on how to make soaps at home, I decided to give it a shot. The idea so occupied my mind that I could barely sleep, eagerly waiting for the day ahead. I had a list of ingredients ready in my mind was excited like a young child.
The following day, I ordered glycerine, honey, goat milk, charcoal, Shea butter, castor oil, coconut oil and other knick-knacks. A few items like lemon grass, basil leaves were sourced from my kitchen garden. I already had silicon moulds that I used for baking and used them as moulds for soaps.
Just like many people learnt cooking and household chores in lockdown, I learnt making soaps. It was a new talent I acquired and soon enough honed it to perfection. When I was satisfied with the quality and novelty of my products, I started gifting them to my relatives and also started sharing pictures of them on various messaging apps.
It was an expression of my creativity and I was having fun. Till, one of my husband's cousin got super excited with the soaps and commented that these cakes would attract children to wash their hands more frequently. And then, she egged me on to start making them commercially. Thus my home-made brand Meraki Kraft came into being.
It takes a few hours to make the soaps in my kitchen every day and I have to focus intensely to get the balance of ingredients right. My family has been very supportive and help me with the chores as well as making of the soaps. My two teenage daughters keep giving me the right ideas to promote my soaps on social media. I am a very private person so my Facebook and Instagram and WhatsApp lists are restricted to friends, but word of mouth has turned into huge sales.
Meraki Kraft's first hit was the tangy orange soaps, but things hit the roof with my doughnut shaped soaps. From there, it has been a successful range from muffin-shaped soaps to those with fruit and herbs bases like watermelon, lavender, basil etc.
Things went a notch higher when I released my Shea butter and charcoal soaps for men with a hint of Hugo Boss perfume. It came in two shapes, circular and a square one that looked like men's shirts. And then came the clincher soap, one that I have got the maximum feedback for. It is a soap that looks like an ice bucket with champagne bottle. Except the bottle, the cubes and the bucket are all soap.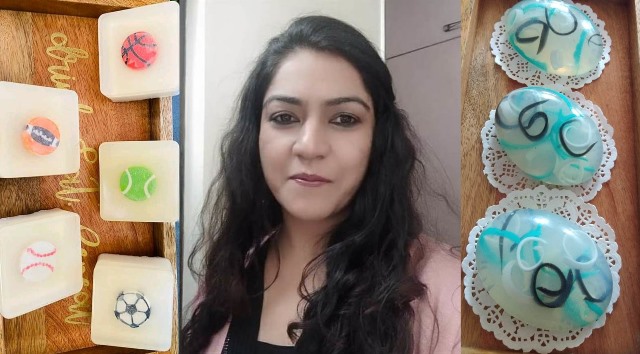 While courier services have been a lifeline, a few stores in Dehradun have also started stocking my products. Each of my soap lasts almost a month. Now, I have started getting repeat orders from as far as Delhi- NCR, Chandigarh, Amritsar, Reeva (M.P.), Mumbai and Goa and of course Dehradun where I live.
If people are looking to start home businesses, it is possible if you strike the right balance. Just make sure you are enjoying yourself in the process. The pandemic is nothing in front of your courage, passion, instincts and ingenuity.
The name of my brand Meraki Kraft means labour of love. It's a Greek word derived from the Turkish term Merak and after the pandemic subsides I feel only those businesses will survive which are a labour of love.